2016 Toyota Sienna Summary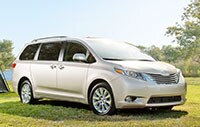 Relatively costly, Siennas come with the usual features, plus some distinguishing extras. Prices can escalate rapidly, moving through the trim-level selection. Dodge Grand Caravan and Chrysler Town & Country still beat the competition in flexible seating and engaged driving, though they may not be around much longer. Overall, Sienna is a close match for the highly rated Honda Odyssey. The Toyota Sienna offers all-wheel drive, which makes it a compelling choice for wintry weather.
Driving impressions by Marty Padgett, The Car Connection. James M. Flammang contributed to this report.