2016 Toyota Sienna Driving Impressions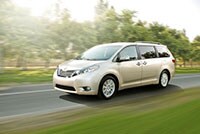 All-wheel drive availability is one feature Sienna offers that's absent elsewhere.
Apart from that, performance is unexceptional. Nothing about the Sienna experience is dramatic. In other words, it's ideal for a minivan, focused on practical, sensible values.
What matters most are performance issues that relate to safety, such as the ability to accelerate to highway speed promptly, and pass or merge without delay. Handling needs to be agile enough to steer away from a potential collision. Braking must be effective, especially in an emergency. In each of those vital areas, Toyota's Sienna ranks favorably with its primary competitors: the Honda Odyssey and FiatChrysler's twin minivans.
Toyota's V6 engine performs agreeably, emitting a muted sound while delivering smooth, ample power. Of course, acceleration is a bit throttled by vehicle weight, which can reach 4,705 pounds.
Electric power steering can be an issue nowadays, but the Sienna's setup has proven itself, allowing the vehicle to track well at highway speeds. Relatively quick steering, coupled with a smooth ride, make the Sienna easy to maneuver in urban traffic. The SE edition has a lower body and tighter suspension tuning, yet feels almost like other versions.
Visibility is excellent, and the standard rearview camera provides a 180-degree view. Gas mileage is lower than in the Honda Odyssey, but competitive with other minivans. The front-wheel-drive version is EPA-rated at 18/25 mpg City/Highway, or 21 mpg Combined. All-wheel-drive estimates fall to 16/23 mpg City/Highway, or 19 mpg Combined.