2016 Lexus RX Summary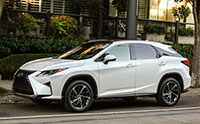 In its transition toward boldness, the RX lost none of its space-efficiency and versatility. More comfortable than ever, it carries on Lexus's well-deserved reputation for ride quality and passenger pleasure. Owning a luxury RX isn't mere self-indulgence. This is a practical vehicle for daily drives.
Driving impressions by Bengt Halvorson, The Car Connection. James M. Flammang contributed to this report.