2016 Jaguar XJ Walk Around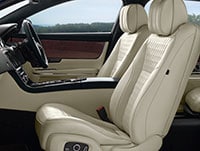 The XJ's rounded edges give it a tucked-in look that's delightfully under styled. It's a modern look that's appropriate to the aluminum skin. Rhomboid headlights complement the big mesh grille. The roofline is drop-dead gorgeous like a fashion model, and the fenders swell to meet the low roofline. The rear pillars are gloss black and seem to sail away, so the rear glass seems to stretch from fender to fender, a classy effect.
Interior
The interior is slathered in chrome. It's over the top. Light shines in through the expansive sunroof and glares on the glitzy instrument panel. The chrome is contrasted by piano-black trim that's high quality but common. The trim seems inconsistent with the wide bands of wood on the doors, and the opulent leather headliner.
There's not a lot of elbow room, headroom or legroom in the cabin, especially in back under that sloping rear window that's so beautiful to look at from outside the car. The front seats are firm and flat, ventilated and heated, but the front passengers' inside knees are squeezed against the center console. At least there's good front legroom so the legs can straighten.
The XJ makes great strides in interfacing, but might overdo it with dazzle. Dials are all but gone, breaking almost entirely away from the tradition of Jaguar sport. What used to be a driver's car in the cabin, is now a video game player's car.
There are a few buttons, but most functions are performed using an eight-inch, high-definition LCD that changes colors; soft red for performance, apparently to remind you or make you feel racy. The screen does climate, audio, and navigation functions. Where there's a button that does the same thing, the button is faster.