2016 Jaguar XF Driving Impressions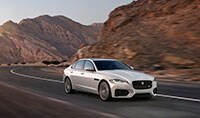 We drove the Jaguar XF in Spain for hundreds of kilometers over smooth roads in the Basque country, and on the pristine Circuito de Navarra racetrack. The XF is composed and clear headed, instantly comfortable, reassuring at speed. The XF has hardcore talent glued and riveted into its aluminum. The handling is sublime, more supple and forgiving than the Cadillac CTS VSport and Audi S6 or S7.
The available adaptive suspension helps, with electronically controlled air dampers. So do the driving modes, which set the aggression level for the throttle, transmission, steering and suspension. There's Economy, Normal, Sport and Track modes, plus Launch mode.
The new XF might be way better than before, but we still want the vivid acceleration of a V8, in the R model. We want it all. It's not that we don't like superchargers, whose soft whine helps hide the grotty V6 rumble. It's a British world of noise and vibration, but neither of much, with a balance shaft in the engine and a lot of insulation to blot up the sound that's neither evocative nor objectionable.
We also drove the upcoming turbodiesel in Spain. It's quick enough, at 7.7 seconds to 60 mph, and the torque comes on from 1750 and 2500 rpm, but it only revs to about 4500. You have to work those paddle shifters in the 8-speed. It just doesn't feel like a Jaguar. We wonder how it will be received.
The ZF 8-speed automatic transmission smoothly delivers almost faultless gear selection, sharp and quick in Sport mode.
The all-wheel drive is chain-driven. The traction control is novel. The stability control has torque vectoring, which brakes an inside wheel in corners for better response.