2016 Ford Fiesta Introduction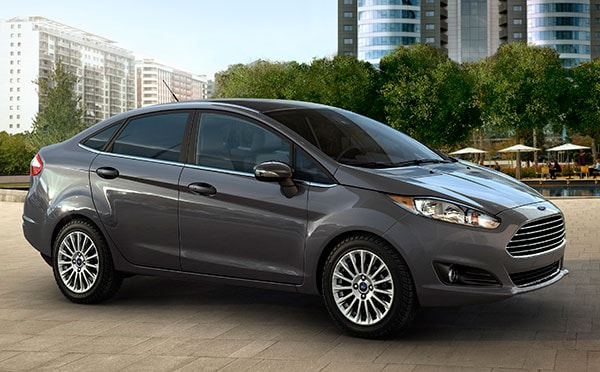 Since it came along six years ago, the Ford Fiesta has established a distinct identity, expressive and fun to drive, nimble and tight, and that's not something you can say about many subcompact cars. It comes as a sedan or a more spirited five-door hatchback.
The base engine is a 1.6-liter four-cylinder making 120 horsepower. It isn't exactly quick but it's peppy enough. It comes with a 5-speed manual transmission, which we prefer, or the 6-speed PowerShift automatic, a twin-clutch design that can't hold a candle to the VW/Audi transmission.
The big engineering news is the tiny 1.0-liter three-cylinder turbocharged engine (manual transmission), making 123 horsepower and 148 pound-feet of torque. It's more fun than the four-cylinder to drive with spirit; keep the revs up and you'll be a fan. We did this and got more than 40 mpg on a 350-mile test.
Even more spirit is found in the Fiesta ST, a hot hatch, a pocket rocket with a 1.6-liter EcoBoost twin-turbocharged four, making 197 horsepower and 214 pound-feet of torque (in overboost mode). It uses a 6-speed manual gearbox, and features upgraded brakes, suspension, steering and tires. Fiesta ST is ready for a track day, something you can't say about many subcompacts. Its competition there might be Mini Cooper S, Hyundai Veloster Turbo, or the larger Volkswagen GTI.
For 2016, there's a new interface, Sync 3 replacing MyFord Touch for audio, connectivity, and navigation on a touchscreen or with by voice command. Otherwise, there are no significant changes.
The 2016 Fiesta gets four stars from the National Highway Traffic Safety Administration in rollover and frontal crash tests, with no side test or overall results yet. The 2015 Fiesta, identical to the 2016 model, got only two stars in the side-impact test and four stars overall. The Insurance Institute for Highway Safety gives Fiesta its top Good results in large frontal, rear, side, and roof-strength tests. But in the small frontal offset test, like hitting a telephone pole, it achieves just a Marginal rating.