2016 Fiat 500L Walk Around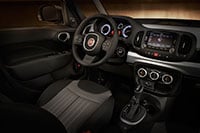 The 500L looks awkward while missing a few targets. It's got the nose of a bulldog, ungainly tiered headlamps, a horizontal three-piece grille, and zigzagging roofline like the Mini. We think the squat and playful stance works, but the details bedevil it.
Interior
The cabin is less playful, thank you. A lot of big knobs and a small 5.0-inch screen. Limited storage space, with two small gloveboxes split by a shallow tray, and door pockets; that's about it. The base Pop doesn't even have a center console, although upward models add it.
The 500L seats aren't very comfortable, with hard bottom cushions rounded at the front, like European seat, to make the pedals easier to reach. Americans like longer front seats for more support under the thigh.
The second row is better, where there's adequate legroom and elevated seats. The bottom cushion is just as firm, but the seatbacks recline; on some models they also slide and tumble for carrying cargo. Nothing like the Honda Fit's Magic Seat, but they're trying. There is a panel in the cargo floor with rails for storage on two levels.
Overall visibility is great, and sunlight breaks into the cabin through the available double-pane small sunroof. Also available is upgraded infotainment with 6.5-inch screen, an SD card slot, text-message read back, and navigation that's not worth it. The nav screen is small and the maps difficult to read. Some smartphones are better than some in-car navigation systems, and that's the case here.