2016 Fiat 500L Driving Impressions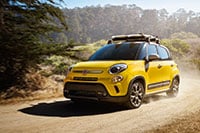 The 500L uses a front strut suspension with twist-beams in rear, getting the most out of the conventional design by using Koni shock absorbers specially tuned the keep harsh bumps out of the cabin. It does the job better than the Mini Countryman, and almost as good as the Kia Soul.
It's quite stable at highway speeds, and the steering is fluid, although the steering wheel is tilted somewhat like a bus, that's a Fiat thing. We found it hard to see the gauges from the steering-wheel position that wasn't so flat.
The dual-clutch transmission isn't impressive, with slow and purposeful shifts (like its cousin the Dodge Dart); not only that, there is no manual control, let alone a sport mode. The 6-speed manual gearbox is better, but the clutch pedal is cramped, at least for a size 12 shoe like we wear. Hill Start Assist is standard, but with fumbling feet you can run out of time. We liked the 6-speed automatic transmission best, for its shift quality.