2016 Dodge Challenger Driving Impressions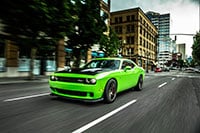 The Dodge Challenger is quick when traveling in a straight line. The Challenger can cope with a curvy road course and is fun to drive on a racing circuit, though it will get left behind by a comparable Camaro or Mustang. Still, in any form, the Challenger handles well enough to feel secure. Nimble it is not, but a Challenger should please anyone who craves this particular brand of American performance.
Ride comfort is a bonus with any Challenger. Even the aggressive SRT Hellcat is surprisingly comfortable, only somewhat firmer than lower-level models. Though the cabin is quiet, some engine noise seeps through when accelerating hard with the V6, or anytime other than gentle low-rev cruising with a V8 model.
The Challenger is quite easy to drive, even the Hellcat, considering how much power lurks beneath the hood. Beware of the secondary motions in the Hellcat, however. Pushing the Hellcat on a curvy road demands careful judgment. Challenger R/T and SXT models suffer nosedive during hard braking.
We've not been pleased with the electric power steering used on all but Hellcat models. Especially with a V8, it lacks feedback, which can require many small adjustments over choppy pavement.
Dodge's V6 that comes with the Challenger SXT offers enough start-off vigor to feel like a muscle car, plus plenty of high-revving passing power. The V8-powered Challenger R/T is stronger, especially while passing, but it falls short of Camaro and Mustang. Upper models feel considerably quicker, and also provide greater stopping power, courtesy of Brembo brakes.
Challenger models do not guzzle gas as much as you might expect. The Challenger SXT is EPA-rated at 19/30 mpg City/Highway, 23 mpg Combined. Challenger R/T with manual transmission manages 15/23 mpg, 18 mpg Combined, 16/25 mpg or 19 Combined with automatic. Hellcat? 16 mpg Combined.