2016 Chevrolet SS Driving Impressions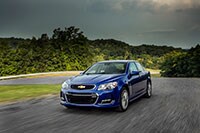 We wouldn't enter the Chevy SS in an Australian V8 Supercar race, but the Aussie and visiting Detroit engineers did a true-blue fair dinkum job in building a chassis that's a cut above the standard. It's not easy to get cornering balance out of a rear-wheel-drive car with a big heavy engine in front (although Cadillac engineers did it, without Australian help, in the CTS-V).
The third generation of Magnetic Ride Control suspension, standard on the SS, has much to do with this. There are three modes: Tour, Sport and Performance. Tour is a bit firm, but still does a good job of burying the bumps around town, so the casual city ride is comfortable. Sport mode not only stiffens the dampers, but also makes the steering quicker, enhancing an already excellent response. It's firm and quick enough for the most spirited street driving. Performance mode is for track days.
We're disappointed in the 6-speed automatic transmission, that's lazy and delayed in Drive and still not quick or sharp enough in Sport mode. If only the automatic transmission were the brilliant GM-designed 8-speed automatic that's in the Cadillac CTS-V. It must be a money thing. We wish it were an option.
The 6-speed manual gearbox is available at no extra cost, and it's a better choice, but still not easy. We're going to assume the clutch was adjusted correctly in our test car, where we found that the engagement for changing gears came high on the travel of the pedal, so quick shifts were challenging. It was difficult to shift smoothly and easy to stall. But at least the throw of the lever was short and smooth.