2016 Cadillac CTS Driving Impressions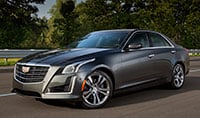 The CTS is a poised car, and handles with finesse and a light touch, cutting sharply into the corners without imitating the BMW 5 Series or Mercedes E Class. It's well balanced, with a weight distribution that's nearly 50-50, and offers superb stability. With its longer wheelbase it's more supple than the ATS, but it's almost as agile.
The base 2.0-liter turbocharged four-cylinder brings 295 pound-feet of torque to its 268 horsepower, and the torque comes on low and stays strong to 5500 rpm. The new 8-speed automatic improves on the former 6-speed.
Good as the 2.0 turbo is, we would choose the 3.6-liter V6, because it offers a lot more power (335 hp) for only a tiny cost in fuel efficiency. We got a lot of seat time in the V6 models with Magnetic Ride Control (MRC), using shock absorbers containing magnetically charged fluid that stiffens and softens in milliseconds, making the ride smooth as a … well, smooth as a Cadillac one moment and stiff as a sports car the next (when needed). We would call it a must-have upgrade, for track days in the twin-turbo V6 Vsport that brings 420 horsepower and 430 pound-feet of torque.
Handling upgrades to that model include a quicker steering ratio, as well as quicker throttle and shifting in its track mode, electronic limited-slip differential, and bigger front brakes. Its grip is fantastic on the 18-inch Pirelli tires. On the track, it blasts carousels and esses, with its piped-in sound track filling the cabin with downshift blips out of the paddle-shifting eight-speed. It'll do zero to 60 in 4.6 seconds and hit 170 mph. That's not as powerful as a BMW twin-turbo V8 550i, but the CTS is lighter, at 3616 pounds.