2016 Cadillac CT6 Walk Around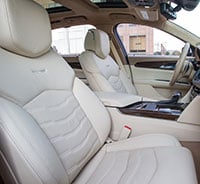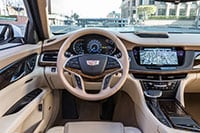 Like other cars in the prestige classes, the CT6's athleticism is wrapped in elegantly simple sheetmetal-there are subtle character lines, and of course the front end treatment, with its unique cascades of vertically stacked LED running lights and familiar egg crate grille, leave no doubt about brand identity. The design team has seen fit to remove the wreath that has surrounded the front end badge for so many decades, but the badge itself is a big one, readily identifiable from a long distance.
Exterior brightwork is tastefully restrained-the LED head and running lights are the car's primary jewelry-although some of the wheels are offered with bright finish. Diameters range from 18 to 20 inches, with tire sizes 235/50-18, 245/45-19, and 245/40-20.
The design team has also taken care to make sure that the wheels fill up the wheel wells, enhancing the car's athletic good looks.
Interior
In addition to supple leather, attractive needlework, and tasteful color combinations-all elements you'd expect in a top-of-the-line luxury sedan-the CT6 offers several interior features that stand out even in this hedonistic automotive arena.
For example, there's a camera integrated with the inside rear view mirror that increases rearward vision 300 percent, according to Cadillac-although it takes some getting used to, and can be switched off.
There's a triggered video recording function, that can monitor and store up to 32 hours of your driving.
The reclinable and fore-aft adjustable rear seats offer a lumbar massage function, and an available rear seat entertainment system includes two 10.2-inch screens with connectivity features. (Naturally, there's another big color touch-screen in the center dash that's home for Cadillac's much-improved CUE telematics system.)
The HVAC system features four separate zones, and includes an ionizing function, to keep cabin air fresh.
A new night vision system includes pedestrian and animal detection, and is integrated with an automatic braking function.
There are three audio systems, all by Bose, with eight speakers (base), 10 speakers, and the new premium Panaray option with 34 speakers. The performance of the Bose Panaray system is something that almost defies description-think Carnegie Hall and New York Philharmonic on wheels.
If there's any element that could be enhanced it's the front bucket seats-all-day comfortable, but the thigh and torso bolsters could be more supportive for the kind of driving inspired by the 3.0 twin turbo.