2016 Cadillac ATS-V Driving Impressions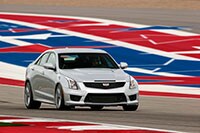 The 6-speed gearbox is fun, with rev-matched downshifts, although the linkage in the 6-speed results in a throw that's longer than we like. Track-day drivers will likely go for the manual, but the automatic is quicker to accelerate and easy to use on the track thanks to brilliant shift algorithms, also with rev matching downshifts.
The rear end contains an electronic limited-slip differential that applies power progressively and controllably, and also adjusts the car's rotational attitude, meaning it might save you from spinning out.
The ATS-V works, whether diving toward an apex, accelerating out of a hairpin, or balancing on edge in rolling esses.
Big Brembo brakes do an excellent job of scrubbing speed when needed and are designed to resist fade during repeated hard braking, when driving on a racetrack, for example.
A Performance Data Recorder is available that would be useful for track days. It downloads dynamic data including Gs, steering angle, throttle and brake inputs. Sessions can be compared back to back to help the driver analyze technique and lower lap times. The system includes video and audio.