2016 BMW X6 Driving Impressions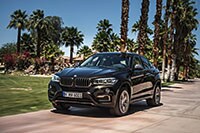 The X6 handles well, considering its size and weight, nearly 5200 pounds. Adaptive suspension and active steering improve handling, but are costly.
For cruising freeways and suburban streets, Comfort mode offers the best balance between good handling and a cushy ride. In Sport mode, body roll is minimized. Sport Plus is useful for very hard driving with less invasive traction control for more wheel spin around corners.
Around the skid pad, we found the optional torque vectoring control, which automatically changes the power split between the rear wheels, increases grip and stability.
Braking performance is impressive on the X6 xDrive50i with M Sport package and the pedal feels progressive and comfortable.
The X6 handled a moderately challenging off-road course well. Rocks and ruts are best handled in Comfort mode. Hill Descent Control automatically controlled our X6 down steep hills without using the brake pedal. A front-view camera helps drivers see obstacles in the road, but wasn't particularly helpful in navigating narrow passageways and turns.
The X6 xDrive50i features a 445-hp V8 that feels smooth and powerful on the open road.
The X6 sDrive35i and xDrive35i uses a 3.0-liter turbocharged inline-6 rated at 300 horsepower and 300 foot-pounds of torque and, according to BMW, makes the X6 capable of 0-60 mph in 6 seconds flat, which is quick for a vehicle of this size. EPA estimates for the six-cylinder are 19/23 mpg City/Highway for the rear-wheel-drive sDrive35i, and 18/27 mpg City/Highway for the all-wheel-drive xDrive35i.
The X6 M is fast traffic, with 567 horsepower, as we discovered at the Circuit of the Americas.