2016 BMW X3 Walk Around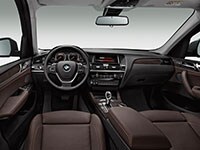 The BMW X3 looks neither rugged nor flashy. It got new round headlights for 2015. With great proportions, it looks like a tall wagon, not an outdoorsy SUV. It's lean, pert, and graceful, compared to its big brother the BMW X5.
The crease at the beltline is gracefully swoopy, lowered by chiseled lines at the hood. The nose is tapered just right, not high or blunt like so many crossovers. The LED taillamps are like those on the 3 Series sedan.
Interior
The cabin of the BMW X3 is driver-oriented, uncluttered and with attention to detail, while being soft, warm, and calming. Soft-touch surfaces abound, from the doors on up. The cabin is heavy on chrome and brightwork with glossy black trim.
The familiar BMW instrument panel arcs over the controls, and cants them a slight bit toward the driver. We like the optional sport seats, firmer but more comfortable in the long run because they're more supportive, with more thigh and side bolstering.
The X3 seats five, with good headroom and especially legroom in rear, thanks to a space that's carved out under the front seat, for the rear passengers' feet. And there's a lot of storage space in back of the rear seat, 19 cubic feet. Drop the 40/20/40 rear seat and it balloons to 56.6 cubic feet. No need to drop it for skis and other long thin things, which can pass through the center of the seat.