2016 BMW X3 Driving Impressions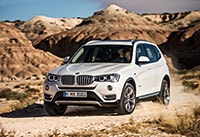 The four-cylinder turbo is stronger and more fuel-efficient than the six-cylinder of old. It accelerates without hesitation. With the latest design of direct injection, variable camshaft timing, variable valve timing, and twin-scroll turbo-charging, it delivers instant response, with its full 260 foot-pounds of torque all there at a tractor-like 1250 rpm, and it stays with you up to 4800.
The six-cylinder in the X3 35i models ups the ante to 300 hp and 300 pounds, and chops one second off the time to accelerate to 60, from a standing-start launch with no trace of squat or dive, like you'd get out of most crossovers or SUVs. That's nearly as fast as the venerable and even worshipped M3, with its screaming straight six.
The 8-speed automatic delivers quick shifts, sharp and isolated; it's muted and smooth yet precise and responsive. The ride is steadier than most crossovers in the class, with very little excess motion.
There's good cornering feel in slower turns, but the steering wheel doesn't unwind with much feel. The optional Variable Sports offers more road feel, relaxed on center and at high speeds, while easier to maneuver around tight corners.
The Driving Dynamics Control, a switch near the gear lever, can set Normal, Sport and Sport Plus modes, affecting the dampers, throttle, transmission and steering. No surprise, it feels best in Sport mode, with a firmer ride, tighter cornering, and quicker steering.