By KBB.com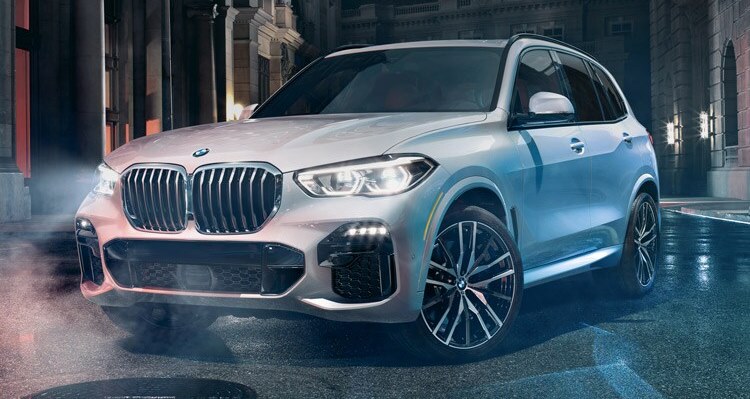 A giant of the luxury midsize-crossover-SUV class, the 2020 BMW X5 can seat up to seven and offers variants powered by V8 engines. The styling won't be to everyone's tastes and the price will deter some buyers, but those with the funds and the fondness will discover that the BMW X5 has a set of skills that's both deep and wide.
As is usually the case with BMW vehicles, the driving experience is a joy for driver and passenger alike. From the base engine to the top choice, there's power aplenty. In this generation, off-road ability is also enhanced by optional hardware. The software is there too, bringing an infotainment system that's incredibly user-friendly, plus various driver aids.
The new-for-2020 X5 M, the hottest X5 variant, is reviewed separately. And an X5 plug-in hybrid is in the pipeline, either as a late addition to the 2020 range or as a 2021 model.
Driving the 2020 BMW X5
This is one of those rare examples where the base engine, a turbocharged inline-6, has all the muscle required to make the whole package a truly remarkable machine, feeling much lighter than the X5's 5,000-pound bulk would suggest.
Part of the secret lies in the selectable driving modes, ranging from Eco Pro to Sport Plus. So the X5 will satisfy on a corner-carving solo jaunt as well as carry a family in soothing comfort. The all-wheel-drive setups have a rearward power bias to create more of a sporty feel, sending more drive to the front whenever necessary.
The thrills are amplified if there's a V8 in the mix. The M50i can even zip from standstill to 60 mph in a sports-car-like 4.1 seconds.
If anyone has not bought an X5 up until now because the off-road abilities weren't up to scratch, the current generation offers a dedicated package with various terrain modes to tackle sand, snow, rocks and gravel, plus a full air suspension that can improve ground clearance. Admittedly, a Land Rover Discovery is more specialized (as well as being similarly luxurious), but the talents of an appropriately equipped X5 are still strong.
Favorite Features
AIR SUSPENSION
Select the Off-Road package ($3,950) to enjoy the air-suspension feature while heading into the wild, or choose it as an individual option ($1,000). It widens the spectrum of comfort and sportiness, while raising or lowering the X5's ride height according to the conditions.
LUXURY MATTERS
This is yet another accomplished aspect to the 2020 X5. It's a bona fide luxury vehicle, with things like heated/cooled cup holders, soft-close doors, heated/cooled seats, and a mighty Bowers & Wilkins 20-speaker/1,500-watt surround-sound system.
2020 BMW X5 Interior
In its regular form, the 2020 BMW X5 comes as a 5-seater with the usual two rows of seating. A third row is optional ($2,200, including the air suspension as well), bringing the occupant count to seven. It's not a place where many adults would be happy to spend their time, but it works well enough for the school run.
No such reservations in the first two rows. They're spacious and comfortable. Although the standard front seats are perfectly fine, the optional multi-contour upgrades (a reasonable $750, or standard in the 50i models) are among the finest available, bringing 20-way-power adjustment with memory settings.
Cabin materials are top-quality, and the dashboard is smartly streamlined either side of a high-resolution 10.2-inch touch screen in the center. Every X5 also has 12.3-inch digital driver-information display replacing the traditional instrument cluster.
Behind the second seating row is 33.9 cubic feet of luggage space. When they're folded, cargo area expands to 72.3 cubic feet.
2020 BMW X5 Exterior
This is still an exceptionally fresh generation, but the styling of the 2020 X5 doesn't depart from its predecessors in any drastic way. The main news is that this model is slightly larger in every direction and the grille is bigger.
Standard alloy wheel size is 19 inches. The M50i comes with 20-inch rims and the options list includes 22-inch versions. This new, more powerful model also sports its own set of aerodynamic additions.
2020 BMW X5 Standard Features
High levels of standard equipment go a long way in justifying the BMW X5's substantial pricing. The 2020 sDrive40i comes with power adjustment for the steering column and the 16-way front seats that are also heated, plus a power tailgate.
Tech features include new Type-C USB ports, navigation, Apple CarPlay smartphone integration, self-dimming rearview mirror, and parking sensors at both ends. The array of driver aids is also comprehensive (see the Safety Features section below).
2020 BMW X5 Options
BMW lays out plenty of ways to make a brand-new X5 more expensive. A Convenience package for the 6-cylinder versions brings some features that are standard higher up the range, such as wireless charging, Wi-Fi, quad-zone climate control and satellite radio. The Premium package includes those features and then throws in remote start, gesture control and a head-up display.
The Driving Assistance Professional bundle completes the driver-aids set, adding adaptive cruise control with stop/go, active lane-keeping assistance and Traffic Jam Assist that allows the X5 to drive itself at lower speeds.
Parking Assistance works for parallel and perpendicular spaces.
Other extras include a 360-degree camera system, "Laserlight" LED headlights, rear-wheel steering, heated steering wheel, heated/cooled cup holders, classy glass console controls, plus the aforementioned luxury seating (with massage functions) and off-roading packages.
2020 BMW X5 Engine
An inline-6 engine is a BMW specialty. The version propelling 2020 X5 40i models displaces three liters and is turbocharged to develop 335 horsepower. It's smooth while still packing a punch. It should be more than adequate for the majority of buyers.
For the other five percent or so, BMW makes an awesome twin-turbocharged 4.4-liter V8. The xDrive50i has a potent 456 horsepower, while the M50i provides a gloriously excessive 523 horsepower.
All versions employ an 8-speed automatic transmission. The sDrive40i is rear-wheel drive (RWD); the others have an all-wheel-drive system that BMW calls xDrive. Maximum towing capacity is 7,200 pounds.
These engines have a fuel-saving automatic stop/start feature, cutting the engine when idling. Drivers irritated by the restart action can turn it off.
3.0-liter turbocharged inline-6
335 horsepower @ 5,500-6,500 rpm
330 lb-ft of torque @ 1,500-5,200 rpm
EPA city/highway fuel economy: 21/26 mpg (RWD), 20/26 mpg (AWD)
4.4-liter twin-turbocharged V8
456 horsepower @ 5,250-6,000 rpm
479 lb-ft of torque @ 1,500-4,750 rpm
EPA city/highway fuel economy: 16/22 mpg
4.4-liter twin-turbocharged V8 (M50i)
523 horsepower @ 5,500-6,000 rpm
553 lb-ft of torque @ 1,800-4,600 rpm
EPA city/highway fuel economy: 16/22 mpg
How Much Does the 2020 BMW X5 Cost?
The Manufacturer's Suggested Retail Price (MSRP) of the entry-level 2020 BMW X5 sDrive40i is $58,900. Adding the $995 destination charge brings it to $59,895. The all-wheel-drive counterpart, the xDrive40i, starts at $62,195.
The V8-powered xDrive50i is priced from $77,145, while the new-for-2020 M50i comes in at $83,145. Add some prime options and reaching $90,000 wouldn't be difficult.
These prices put the 2020 X5 above the Audi Q7, Mercedes-Benz GLE-Class and Volvo XC90, and well above the Lexus RX. A couple of rivals are more expensive: the Land Rover Range Rover Sport and the Porsche Cayenne.
Resale values of previous generations have been fairly sturdy, so we expect this fourth generation to be at least as good. However, the Lexus RX remains the class champ in this respect.
Which 2020 BMW X5 Model is Right for Me?
2020 BMW X5 sDrive40i
LED headlights/daytime running lights/taillights
19-inch alloy wheels
Power-adjustable steering column
Heated/16-way-power front seats
Dual-zone automatic climate control
Power tailgate
Navigation with real-time traffic updates
Driver-assistance features
Apple CarPlay smartphone integration
2020 BMW X5 xDrive40i
All-wheel drive
2020 BMW X5 xDrive50i
Leather upholstery
Quad-zone automatic climate control
Wireless charging
Wi-Fi
Harman Kardon 16-speaker/464-watt surround-sound system
2020 BMW X5 M50i
M Sport brakes
M Sport rear differential
M-tuned adaptive suspension
20-inch alloy wheels

Click here to view our inventory, or visit us at one of the following locations:
Herb Chambers BMW of Sudbury
Herb Chambers BMW of Boston