By KBB.com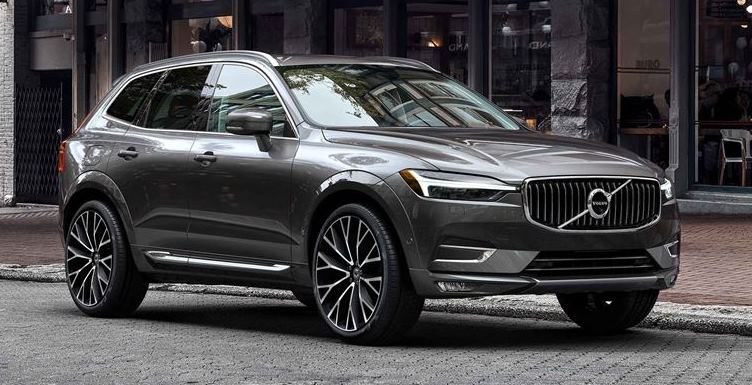 All-new just last year, the Volvo XC60 is a key part of the Swedish luxury brand's renaissance. This 2-row/5-passenger compact-luxury SUV is an alluring alternative to rivals such as the BMW X3, Mercedes-Benz GLC, and Audi Q5 thanks to its sensual design, strong roster of standard features, and variety of sophisticated powertrains. Regarding the last, the 2019 Volvo XC60 can be had with everything from an engine that is turbocharged and supercharged to a plug-in hybrid variant that can travel 17 miles on electricity. A new, front-wheel-drive base variant lowers the XC60's starting price to just over $40,000. Volvo is known for being at the vanguard of safety, and the XC60 carries that mantra with a standard suite of accident-avoidance features.
Driving the 2019 Volvo XC60
Spirited performance may not be the first thing you think of when considering a Volvo, but the fact that even a base XC60 feels surprisingly potent is an unexpected delight. The base T5 models with their 250-horsepower turbocharged 4-cylinders feel zippy and as if they punch above their weight. Step up to the T6, and you get a small engine that has been turbocharged and supercharged, the only one of its kind on the market. The result packs a serious punch. Whether you're accelerating up a freeway onramp or passing slower drivers, this little powerplant effortlessly propels the XC60. You can quickly find yourself above legal speed limits. The third powertrain option, the hybrid T8 that pairs a gasoline engine and electric powertrain, left us less impressed. Though the technology under the hood is commendable and with 400 horsepower it's the most powerful XC60, transitions between the gasoline and electric powertrains aren't all that smooth. Regardless of which powertrain you choose, this Volvo SUV's suspension provides both comfort and a significant amount of control and is designed to limit both understeer and torque steer for a neutral feel in a variety of circumstances. Additionally, with multiple drive modes -- including an individualized one -- you can optimize the XC60 for sporty, comfort-oriented, efficiency-minded and even off-road driving.
Favorite Features
STANDARD SAFETY FEATURES
Volvo has long been synonymous with safety, and the new Volvo XC60 carries that legacy forward with increasingly intelligent features. Among them are aids to keep the vehicle in lanes and even apply the brakes if a collision appears imminent.

XC60 T6 MODEL
This is our favorite XC60 because its engine is something of a guilty pleasure. It is both turbocharged and supercharged, and the result feels like power, squared. Packing 316 horsepower and 295 lb-ft of torque it really gets up and goes.
2019 Volvo XC60 Interior
The 2019 XC60's 2-row/5-passenger interior captures the same upscale feel as its bigger brother, the XC90 sport utility, bringing a Scandinavian ethos. A key design touch is the "ribbon of woodgrain" that flows along the dash. Instrumentation is clear, and the dash features a sizable driver-information center between speedometer and tachometer. In the center of the dash is the Sensus infotainment system, a 9-inch touch screen. Unlike most rivals, this screen is vertically positioned. Seats are top-notch with superior adjustment and support. The rear-seat area is comfortable for three adults, and behind it is a voluminous cargo area. Genuine leather is the upholstery of choice for a majority of XC60 models. New this year is Leatherette in base Momentum trims.
2019 Volvo XC60 Exterior
The XC60 also mimics its bigger XC90 on the outside. This family resemblance is hardly a bad thing, as we think the XC90 is among the most beautiful SUVs currently available. To our eyes, the XC60 pulls off a design trifecta of looking elegant, tough and individualistic all at once. Further distinction can be had by opting for different trims. The R-Design, for example, has a slightly more aggressive look thanks to a gloss-black grille and other such exterior touches. Even the headlights make a statement with their "Thor's Hammer" design. A panoramic moonroof is standard on all models. Wheel sizes range from the standard 18 inches up to optional 21-inch rollers.
2019 Volvo XC60 Standard Features
The 2019 XC60 is available in three main trims: Momentum, R-Design and Inscription. Even in its least expensive form, the XC60 Momentum doesn't feel like a base model. It Includes premium features like a turbocharged engine, panoramic moonroof, dual-zone climate control, LED headlights, 10-way-power front seats, power tailgate, and 18-inch alloy wheels. On the infotainment side, there is a 9-inch vertical touch screen with Apple CarPlay/Android Auto integration, and a 10-speaker/330-watt audio system that can play digital audio formats, including FLAC (Free Lossless Audio Codec). The XC60's robust safety features include lane-keeping assist, run-off road mitigation, automatic emergency braking, and a system that can watch for pedestrians, cyclists and large animals.
2019 Volvo XC60 Options
Moving up to the R-Design adds leather seating, power-folding rear seat, blind-spot monitoring, Park Pilot Assist (parallel and perpendicular parking aid), navigation, and a new harman/kardon premium audio system. The top-line XC60 Inscription model adds quad-zone climate control and driftwood inlays, and opens the door for more options. In addition to opting for the more powerful T6 or plug-in hybrid T8 variants, other options include a sublime Bowers & Wilkins high-end audio system, heated rear seats and heated steering wheel, front seats with ventilation and massaging functionality, and larger wheels. A 4-corner air-suspension system is also available.
2019 Volvo XC60 Engine
Volvo offers rational step-ups in its three engine choices for the XC60, ranging from the straightforward but still high-tech T5 4-cylinder direct-injection turbocharged engine to the wildly complicated T8 that combines a 4-cylinder direct-injection turbocharged and supercharged engine with a lithium-ion-battery-powered electric motor. In between is the T6 4-cylinder direct-injection turbocharged and supercharged engine that delivers 316 peak horsepower and a stout 295 lb-ft of torque. While some Volvo faithful will opt for the pricey plug-in hybrid T8, most of the volume will be in T5 and T6 versions. New for 2019, front-wheel drive (FWD) is available on T5 models, reducing the price. All other models have all-wheel drive (AWD) standard. All Volvo XC60s use a smooth and refined 8-speed automatic transmission.

2.0-liter turbocharged inline-4 (XC60 T5)
250 horsepower @ 5,500 rpm
258 lb-ft of torque @ 1,500-4,800 rpm
EPA city/highway fuel economy: 22/29 mpg (FWD), 20/27 mpg (AWD)

2.0-liter turbocharged/supercharged inline-4 (XC60 T6)
316 horsepower @ 5,700 rpm
295 lb-ft of torque @ 2,200-5,400 rpm
EPA city/highway fuel economy: 19/27 mpg

2.0-liter turbocharged/supercharged inline-4 with plug-in hybrid (XC60 T8)
400 horsepower @ 6,000 rpm
472 lb-ft of torque @ 2,200-5,400 rpm
EPA city/highway fuel economy: 58 mpge (miles per gallon equivalent)
How Much Does the 2019 Volvo XC60 Cost?
Getting into a new Volvo XC60 just got less expensive for 2019 thanks to the introduction of the front-wheel-drive T5 Momentum model. That new base variant has a Manufacturer's Suggested Retail Price (MSRP) of $40,195. That's over $2,000 less than the 2018 version that came standard with all-wheel drive, though opting for it now puts you right back in that price range. Moving up to higher trims and/or the more powerful engine choices lifts these prices by thousands. A top-line XC60 T8 Inscription, for example, starts just over $60,000. Note that the T8's status as a plug-in hybrid electric vehicle (PHEV), however, qualifies it for a roughly $5,000 federal tax credit. At these prices, Volvo's XC60 splits the difference among small-luxury SUVs from Japanese brands such as the Lexus NX and Infiniti QX50, and those of European rivals like the BMW X3, Mercedes-Benz GLC and Audi Q5.