Herb Chambers VIP Concierge Program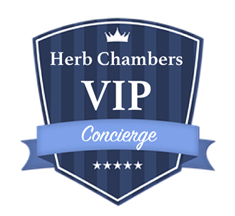 It has been over a decade since the inception of our official Herb Chambers VIP Concierge Referral Program. In our continued efforts to provide you with the very best service, we created this program to leverage the size and strength of our retail network. I am happy to say that we have had great success with it and unprecedented growth in the last two years!
This program provides our clients with better and easier access to the inventory at all 60 of our dealership locations. Most of our dealerships are conveniently located within 30 minutes of each other. No other dealer group has as many locations in that close proximity.
We have a dedicated Corporate Concierge Referral team whose main goal is to assist you in getting exactly what you are looking for quickly, easily and at a great price. Whether that be a new, certified, or pre-owned vehicle, our 60 Herb Chambers dealerships offer 36 new vehicle brands and the largest selection of used and certified pre-owned vehicles in New England.
Our Sales Teams are truly your "Total Automotive Resource" as they have the ability to sell EVERY brand we represent. Our team will review your needs and seamlessly transfer your information, including vehicle preference, to the appropriate Herb Chambers dealership, which will pick up where you left off. You won't be starting the process over!
If you are interested in taking advantage of this program, it's easy! Simply reach out to your current Herb Chambers dealership associate and they will share your wants and needs with our VIP Concierge Referral Team. The Concierge Team will then provide you with an introduction to a senior manager from one of our 60 dealerships, who will be best prepared to assist you. The program is FREE and as always, we accept any vehicle as a trade-in, no matter the condition or mileage.
We are committed to providing you with a true VIP experience. Reach out to any of our Herb Chambers dealerships today and let our team take care of the rest!