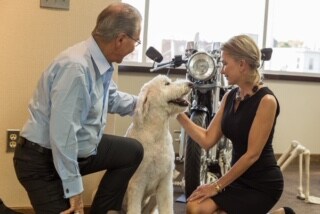 This month's article is for all the dog lovers! I absolutely adore my dog, Sid, and I take him with me everywhere I can. Nothing is worse than the look your dog gives you when you are leaving them behind at home while you have to go off to work, run errands, or attend an event. That is why I made sure all of our dealerships are dog friendly!
We want you to be able to bring your dog with you while you wait for your vehicle to be serviced, or during the purchase of your new vehicle. All of our dealerships have great customer lounges so you can make yourself at home and enjoy a hot cup of coffee, a nice muffin or bagel, and watch some TV. As pet-friendly dealerships, we also welcome pets with open arms, and offer a few treats, a water dish, and toys whenever possible!
Any pets that visit us should be safely socialized to other pets and people to ensure everyone's safety. We welcome all well-mannered, leashed dogs in to our dealerships!
We want you and your best friend to feel at home in our dealerships. We know you love your furry friends, too. Most dogs love a ride in the car, so why not bring your pet with you next time you need to stop by one of our dealerships? We know that vehicle maintenance and car shopping isn't on the top of everyone's fun activities list, so we try our best to make it as enjoyable and relaxing as possible. Not just for you, but for the most important people, or dogs, in your life, too!
Below are some examples of our furry friend's visits: