Boston Marathon Finish Line Party: Where it all Started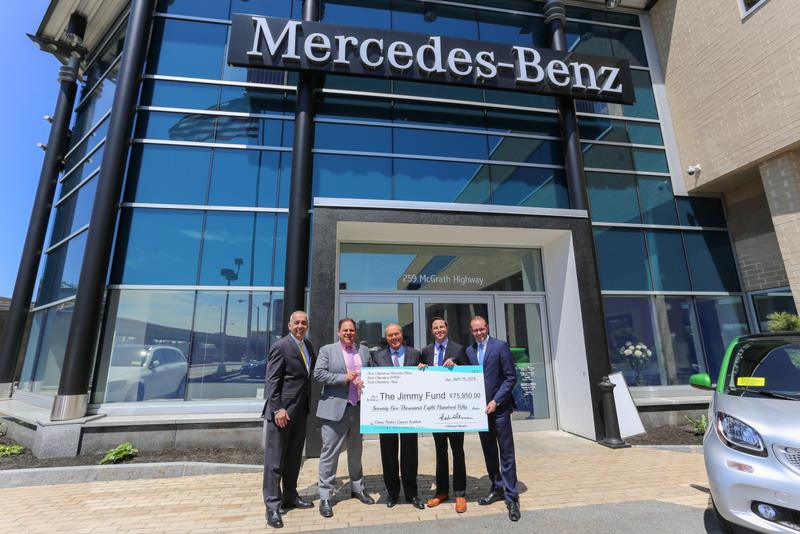 I would like to take this opportunity to thank everyone who has ever attended, or donated to, our Boston Marathon Finish Line Parties. Without our amazing clients our partnership with the Jimmy Fund and Dana-Farber Cancer Institute would not be as hugely successful as it is today. I want to share with you a little background on our Marathon Finish Line Party and how it all began.
It all started when Mercedes-Benz USA hosted the first party at Abe and Louie's one Marathon Monday. The party was open to all Mercedes-Benz USA dealerships and their clients. Abe and Louie's is just steps from the finish line of the Boston Marathon on Boylston Street. It could not be a better spot! After a couple of years Mercedes-Benz USA decided to discontinue hosting the party, which had become something that clients, employees, and myself had grown to love. The opportunity to continue the Finish Line Party tradition was available to me, and I felt so strongly about it, that I decided to take on the responsibility of hosting this event. We had our first "Herb Chambers" Finish Line Party in 2007 hosted by our three Mercedes-Benz dealerships and we invited our Mercedes-Benz clients, at no cost to them. I was beyond excited to continue this tradition, allowing everyone to enjoy themselves on one of Boston's most iconic days!
April 15th, 2013, is a day I will never forget. For everyone who shared that day with me, I'm sure those memories are hard to forget. I know mine are. So many families were affected by such a senseless act, something I know I never thought would happen here in our beloved city. After the marathon bombing, One Fund Boston was created. "We're one community – One Boston. Let's stand together, to help our neighbors in need," was the slogan for One Fund Boston, and that really spoke to me. As being part of Boston's community and knowing how well we come together to help those in need, I leaped at the opportunity to further raise funds. I decided to make a donation requirement for those wishing to attend the Finish Line Party, and that didn't stop a single person from attending. All proceeds raised at this Finish Line Party went directly to One Fund Boston. The heart of this city truly shined that year as we were back together in the same place we were when the bombs went off, raising funds for all affected by the tragedy. Eventually, One Fund Boston stopped taking donations as the total dollars raised far exceeded expectations. This doesn't surprise me one bit, given the money raised that year at Abe & Louie's represented only a small portion of what was donated worldwide. It truly was an amazing Finish Line Party that year knowing that there was nothing we couldn't overcome as a community.
Since we had such an overwhelming turn out of people more than willing to donate to a great cause, it only made sense to continue the Finish Line Parties as charitable events. We had just announced our exciting new partnership with Dana-Farber Cancer Institute and the Jimmy Fund in March of 2015, so it was an obvious choice to connect our Finish Line Party's charitable component with our new partner. It was the perfect opportunity to allow our wonderful clients and employees to come together, again, and raise funds to aid in research and patient care. "Dedicated to discovery...Committed to care" is the mission of Dana-Farber Cancer Institute. I couldn't be more honored to help support such an amazing institution. From this point on, 100% of the proceeds from our Finish Line Party would go directly to the Jimmy Fund and Dana-Farber.

Not to my surprise, the party became so sought after that we had to seek out an additional venue! I was thrilled to know that our clients and employees were enjoying themselves so much that one location just wasn't big enough. Atlantic Fish Co. was gracious enough to allow us to host our Finish Line Party at their restaurant. We now host clients from our Mercedes-Benz, Audi, and BMW dealerships. Year after year, it is always an amazing turn out!
This is far beyond anything I could have ever dreamed of. Many of you reading this have shared this day with me, so many memories, all of us under one roof, supporting a great cause. I am fortunate enough to have such great clients and employees that want to help support their neighbors, no matter what the battle is. When we joined forces with the Jimmy Fund and Dana-Farber back in 2015, I never would have imagined this partnership becoming what it is today. Our Finish Line Parties have created a family full of people who will stop at nothing to support their neighbors. Family helps create a feeling of togetherness, and that's exactly what happens at these Finish Line Parties.

This year we presented The Jimmy Fund with a check for $75,850.00. None of this would be possible without those who attend and donate to our Marathon Finish Line parties. This is no longer just a party, but a tradition where clients, employees, and I come together as family to enjoy Marathon Monday while raising funds for one of Boston's most incredible organizations. It makes me so incredibly happy to join in on the fight to conquer cancer with all of you. Together we can make a difference.

To see all of the charities we support, click here.