2018 J.D Power Dealer of Excellence Award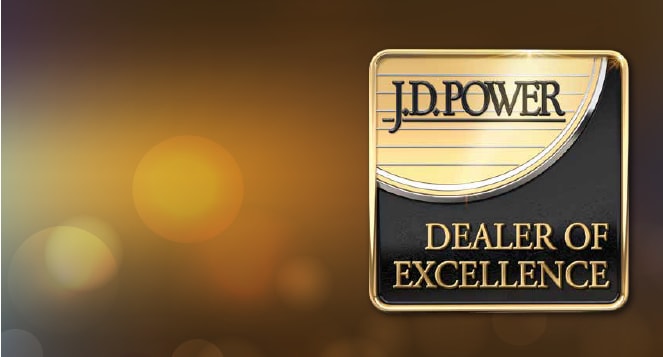 This month I would like to take the time to recognize our dealerships that received the 2018 J.D. Power Dealer of Excellence Award. Now, you're probably wondering what this award actually is and how a dealership qualifies for it? Well, let me introduce to you to the J.D. Power Dealer of Excellence Program.
"Recognizing dealerships for providing customers with an outstanding sales experience and distinguishing those dealerships as trusted partners for purchasing a vehicle. Certification is designed to highlight select dealerships for their commitment to customer service and assist dealer managers in differentiating their stores from local competitors. From the customer point of view, Dealer of Excellence is a stamp of approval that provides confidence in the new- and used-vehicle shopping experience." –J.D. Power
I couldn't be more proud of the dealerships that received this award. Considering how dedicated we are to providing our guests with excellent customer service being recognized by J.D Power certainly is a proud moment for us all. The Herb Chambers dealerships to receive this award are as follows:
Herb Chambers Chrysler Dodge Jeep Ram Fiat of Danvers
Herb Chambers Chrysler Dodge Jeep Ram Fiat of Millbury
Herb Chambers Ford of Braintree
Herb Chambers Honda of Burlington
Herb Chambers Honda of Seekonk
Herb Chambers Lexus of Hingham
Herb Chambers Lincoln of Norwood
Herb Chambers Toyota of Auburn
Herb Chambers Volvo Cars of Norwood
In order to receive this award there are three "certification criteria." Each dealership must be recognized by its vehicle manufacturer as being amongst the highest customer satisfaction performers for their brand, go through a pre-screening test and, finally, pass an in-store verification process to ensure that the dealership is adhering to a series of Customer Experience best practices including internet inventory and pricing, professional customer communications, pricing transparency, online showroom, open negotiation, fair trade-in value, used-vehicle integrity, F&I products, and concern resolution process.
This award is one of the highest honors our dealerships can receive. It is truly a reflection of the entire team's dedication and ability to work together.
I take great pride in our dealerships being honored this way. We want every person who walks into our dealerships to feel like family. We strive to incorporate a personal touch into every client interaction, and we believe that is what sets us apart. Making clients feel at home & comfortable with their car buying experience and ensuring every person we meet receives excellent service is always my number one goal. Receiving the prestigious 2018 J.D Power Dealer of Excellence award tells me my goal is being met!