This month I wanted to share a wonderful article written by Sarah Lydon for Lesley University about one of our very special employees, Adam Roberge. Adam works right down the hall from my office and I'm blown away by this young man. I hope you find this article as inspiring as I did.
A Love for Cars Leads to Job for Threshold Graduate.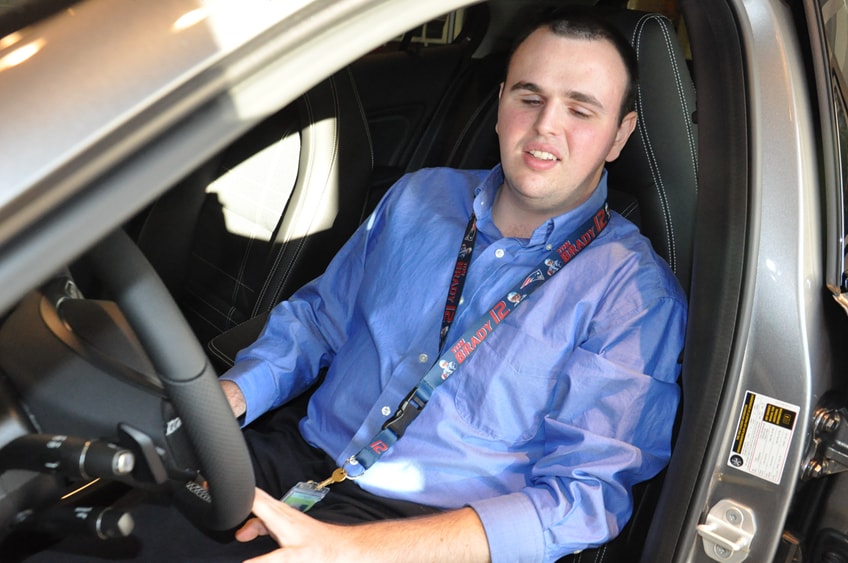 Threshold alum Adam Roberge can't remember a time when he didn't love cars. Thanks to this passion, he's now a researcher at Herb Chambers Mercedes-Benz of Boston.
Adam Roberge can't remember a time when he didn't love cars.
"I've been interested in cars since I was a little kid," says Adam. "I always wanted to know what kind of car people drove. I knew what cars all my relatives had, what my friends' parents drove, every minivan we rented on vacation."
He read books and listened faithfully to Car Talk on NPR; later he started researching cars independently online and developed an encyclopedic knowledge of different makes and models. Visually impaired since birth, Adam graduated from the Threshold Program at Lesley in 2017 and currently works part time at Herb Chambers Mercedes-Benz of Boston as a researcher.
Adam attended the Perkins School for the Blind before coming to the Threshold Program at Lesley. During his time at Threshold, a lucky connection matched him with an internship at Mercedes-Benz. His friend Cam Grousbeck's father met Herb Chambers at a fundraiser and told him "a friend of my son is crazy about cars—do you have something for him?" Threshold advisors met with management at the Somerville dealership and Adam was hired as an intern. When he graduated, the internship became a paid position.
A Talent for Detail
His job at Herb Chambers involves researching the different Mercedes-Benz models, writing for the dealership's monthly blog, coming up with a Car of the Month feature, and creating quizzes for salespeople on particular models on the lot. Heather Berkowitz, the dealership's social media and marketing coordinator, supervises Adam's work. "Adam is really detailed. He knows about the different technologies inside the cars and has a good grasp on how they work. His favorite thing is the history behind the brand. He loves talking about the differences between the different generations, how the newer versions compare to the older ones."
General manager Jeff Davis is sometimes awed by Adam's knowledge, passion, and attention to detail. "He just loves cars. He knows what everyone at the dealership drives, how many miles are on each car, what cars they used to drive. He can talk about cars all day."
A Dream Job
For Adam, being at the Mercedes-Benz dealership every day and being paid to study and share his passion is a dream job. "I like getting to check out the cars, describe them, tell people what they need to know about each car." His favorites? "I like the E-Class and the S-Class." he says with authority. "They're some of the safest cars and the most comfortable cars—the sedans, wagons, and the coupes."
His dream? "I hope to go to the Mercedes Museum in Stuttgart, Germany." The museum, which documents the 125-year history of the Mercedes-Benz, features over 160 automobiles ranging from the company's earliest cars to futuristic research models. The museum is currently holding a special exhibit of their AMG performance and sports car line—the fast, powerful athletes of the Mercedes-Benz family. For Adam, who can talk in remarkable detail about the inner workings, features, and performance of every car at Herb Chambers, they're the pinnacle—about as far from a minivan as one can get.